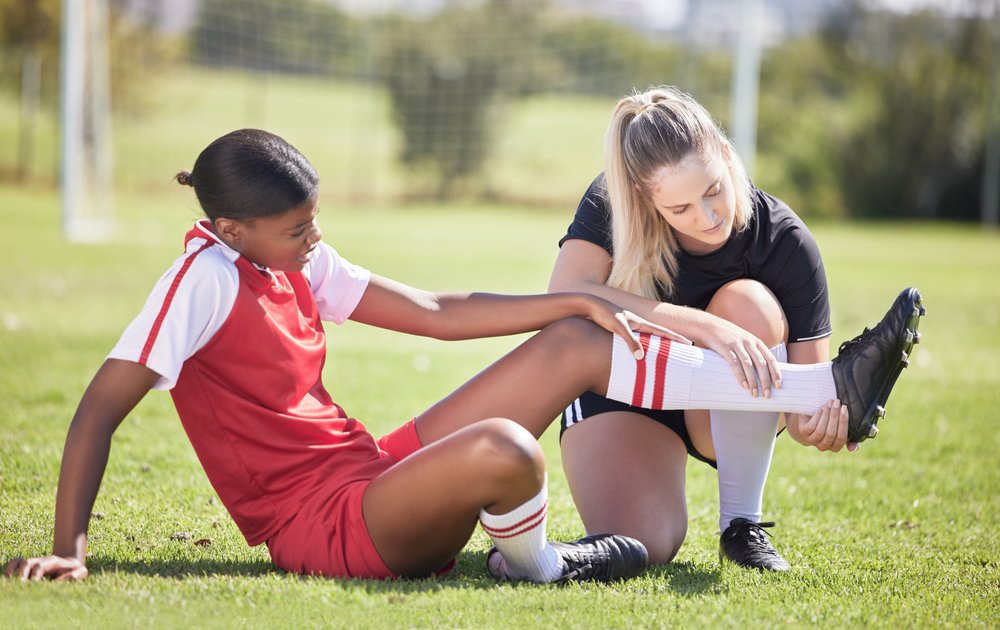 Youth sports are some of the most rewarding activities for kids and parents alike. Unfortunately, youth injuries in sports are extremely common, and young athletes are susceptible to a variety of sports injuries.
From overuse injuries to acute trauma, sports-related injuries can sideline a young athlete for weeks, months, or even seasons. In some cases, a youth sports injury can even lead to long-term problems and permanent damage. While there's no way to completely prevent all sports injuries in kids, understanding the most common types of youth sports injuries is a good place to start.
As one of Pittsburgh's top sports medicine specialists, Dr. Michael J. Rytel has treated countless youth sports injuries. Dr. Rytel is passionate about helping young patients return to the activities they love, and he is uniquely qualified to treat a wide variety of sports injuries in kids.
Here are five of the most common types of youth sports injuries, as well as some tips on how to prevent them.
Why Do Young Athletes Get Injured?
Children and adolescents are still growing, and their bodies are not yet fully developed. This can make a skeletally immature young athlete more susceptible to injury, as their bones, muscles, and tendons are not as strong as those of adults. Additionally, kids at younger ages are often less coordinated than adults, which can lead to falls and other accidents.
Another significant risk factor contributing to the fact that youth athletes are more likely to get injured is overuse. When kids participate in sports, they frequently do the same motions over and over again. This repetitive motion can lead to strain on the muscles, tendons, and ligaments, which can eventually result in an overuse injury.
Participating in multiple sports or playing a single sport year-round can also increase the risk of overuse injuries. When young athletes don't give their bodies adequate time to rest and recover between games and practices, they are more likely to experience an overuse injury.
Finally, youth athletes are often under a lot of pressure to perform well, starting with early intensive training. This pressure can come from coaches, parents, and even themselves. When kids feel like they have to win at all costs, they may be more likely to take risks and push their bodies beyond their limits, which can lead to youth sports injuries.
Which Sports Have the Highest Injury Risk?
While organized sports-related injuries can happen in any sport, some do carry a higher risk than other sports, particularly contact sports. Some of the sports with the highest rates of injury include:
Basketball: Injuries to the knee, ankle, and foot are common in basketball players.
Football: Football players are susceptible to injuries to the knee, ankle, shoulder, and head.
Baseball and softball: Overuse injuries to the shoulder and elbow are common in baseball and softball players.
Gymnastics: Injuries to the wrist, elbow, and shoulder are common in gymnasts.
Soccer: Soccer players frequently experience injuries to the ankle, knee, and head.
Ice Hockey: Ice hockey players are at risk for injuries to the head, face, and teeth, as well as injuries to the knee, ankle, and foot.

Top 5 Most Common Youth Sports Injuries
1. Overuse Injury

Overuse injuries are a type of injury that occurs when a young athlete repetitively uses the same muscle group or joints without allowing adequate time for rest and recovery. Athletes often experience overuse injuries during contact sports, as well as in sports that require a lot of jumping, such as basketball and volleyball.

Common high-risk overuse injuries in young athletes include (but aren't limited to):

Patellar tendinitis (jumper's knee): This injury is caused by repetitive stress on the tendon that connects the kneecap to the shinbone.
Jumper's knee is common in basketball and volleyball players.
Little league shoulder: This injury is caused by repetitive overhead motions of the arm, such as those often used in pitching a baseball. It can lead to pain and tenderness in the shoulder and upper arm.
Osgood-Schlatter disease: This condition is caused by repetitive stress on the knee, which often occurs during activities that involve a lot of running and jumping. It typically affects young athletes who participate in soccer, basketball, and gymnastics.

2. Sprains and Strains

The most common type of youth sports injury is a sprain or strain. Sprains occur when the ligaments that connect bones to each other are stretched or torn. Strains occur when the muscles or tendons are stretched or torn. Both sprains and strains can be caused by a sudden change in direction, a fall, or overuse.

The most common places for sprains and strains to occur are the ankle, knee, and wrist. However, they can also occur in the neck, back, and shoulder.

3. Fractures

Fractures, or broken bones, are another common type of youth sports injury. They can be caused by a fall, direct blow, or overuse. The most common places for fractures to occur are the growth plates in the long bones of the arms and legs (the forearm, upper arm, thigh, and lower leg), as well as the collarbone.

4. Lower Extremity Injuries

The lower extremities, which include the feet, ankles, and legs, are especially susceptible to injury in young athletes. This is due to the fact that the bones and joints in these areas are still growing and developing, which can make them more vulnerable to injury.

Common lower extremity injuries include:

Ankle sprain: This is the most common type of ankle injury, and it occurs when the ligaments that support the ankle are stretched or torn.

Achilles tendon rupture: The Achilles tendon is the large tendon located in the back of the leg that connects the calf muscle to the heel bone. A rupture occurs when this tendon is completely torn.

Stress fracture: A stress fracture is a small crack in the bone that occurs due to repetitive stress or overuse. They are common in the feet and lower legs.

Shin splints: Shin splints refer to pain along the front or inside of the shinbone (tibia), which is often caused by overuse.


Youth athletes can reduce lower extremity injuries by wearing proper footwear and using appropriate techniques when participating in their chosen sport.

5. Dislocations

Dislocations occur when the end of a bone pops out of its joint. They can be caused by a fall, direct blow, or overuse. Dislocations often occur in the shoulder, elbow, or knee.

Dislocations are a serious type of injury that require immediate medical attention. Once a dislocation has occurred, the bone must be put back into its proper place by a trained medical professional.

Youth athletes who sustain a dislocation should not return to their sport until they have been cleared by a doctor.
Practicing Injury Prevention
When it comes to sports injuries, prevention is the best practice whenever possible. For young athletes, their parents, and their doctors alike, it should be a priority to prevent sports-related injuries as much as possible and to avoid recurrent injury. Some tips for injury prevention include:
Warm up and cool down properly before and after physical activity.
Stretch regularly.
Cross-train and participate in a variety of different activities to avoid overuse injuries.
Use appropriate safety gear when participating in sports or other physical activities.
Listen to your body and don't skip scheduled rest periods when you are feeling pain or fatigue.
See a doctor for sports injury treatment if you have any persistent pain or discomfort.
Identify prior injury patterns and work to prevent them from recurring.

Visit the Top Sports Medicine Specialist Near You
With a little bit of knowledge and preparation, youth athletes can minimize their risk of sustaining a sports-related injury. By following these tips, young athletes can stay healthy and enjoy participating in their chosen sport for years to come.
If you do become injured, Dr. Michael J. Rytel is here to help. Dr. Rytel is a board-certified orthopedic surgeon who specializes in the treatment of sports-related injuries in athletes of all ages, from weekend warriors to professional athletes.
If you're ready to receive treatment from the best sports medicine doctor Pittsburgh has to offer, schedule your first appointment with Dr. Rytel today.